About Dr. Hegele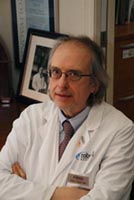 Dr. Robert A. Hegele
MD, FRCPC, FACP
Director of the Blackburn Cardiovascular Genetics Laboratory
Robarts Research Institute
London, Ontario
Robert Hegele was born in Toronto, Ontario. In his youth, Dr. Hegele was intensely interested in music composition and playing the piano. From early on, his family was very influential, and had a great appreciation for academic pursuits and learning. He attended the University of Toronto and received his medical degree in 1981. His specialty training in Internal Medicine and Endocrinology was followed by four years of post-doctoral training, first at the Rockefeller University, New York City, in heart disease and cholesterol, and then in human genetics at the Howard Hughes Medical Institute in Salt lake City, Utah.
It was during his research fellowship in New York City that prompted Hegele to pursue research in genetics. With a strong belief in "the power of human genetics and genomics to help solve fundamental problems related to human health and disease", he became interested in researching the genetic basis of several human disorders, most notably, atherosclerosis and two different forms of Type 2 diabetes. One is commonly found in the aboriginal population of Oji Cree and the second is an inherited form of diabetes called partial lipodystrophy, which causes a six-fold increase in the risk of early heart disease. Using DNA sequence analysis, Hegele and his research team discovered two distinct genetic mutations that were each responsible for one of the inherited forms of diabetes. In total, his laboratory has discovered the genetic basis of 8 human diseases.
Acknowledged as a leading Canadian scientist in the field of genomics, as it relates to diabetes, his impressive contributions have garnered him the Young Scientist Award by the Canadian Diabetes Association in October 2002, and the UWO Faculty of Medicine Research Excellence Award. He also received the Joe Doupe Award from the Royal College of Physicians and Surgeons of Canada, the Young Investigator Award from the American Federation for Clinical Research, and the Senior Scientist Award from the Canadian Lipoprotein Conference. He was elected to the American Society for Clinical Investigation in 2001.
His original research on monogenic insulin resistance and atherosclerosis was selected by the American Heart Association as a "Top Ten Scientific Advance for 2001".
In 2004 he received the Hellmuth Award for Research Achievement from UWO and was the first non-American recipient of the American Heart Association's Jeffrey M. Hoeg Arteriosclerosis, Thrombosis and Vascular Biology Award for Basic Science and Clinical Research.
Currently Director of the Blackburn Cardiovascular Genetics Laboratory, at Robarts Research Institute, in London, ON, Hegele is highly enthusiastic about his work and praises Drs. Ray White and Lap-Chee Tsui as great scientific mentors for his genetic research career.